The All New H6 Hybrid is Smart From The Start
Enjoy smooth and responsive performance when you need it, all while intelligently saving on fuel backed with high-level safety.
Hamilton White
FU Grey
Blue Swarovsi
Crystal Black
G7 Red
Ayers Grey
Global Highly Intelligent Modular Technology Platform
Focusing on the strategic deployment of "globalization", gathering the R&D strength of "seven countries and ten regions" in the world, taking the user's needs as the core, we will build a global full scene intelligent platform with advanced intelligence, fullest extensibility, strongest security protection, highest energy efficiency ratio and extraordinary global quality, to improve the consumers' perception of space, safety, tranquility, reliability, motivation and economy, thus, comprehensively innovating the intelligent travel and life scenarios of the future, and define the new standards for future automotive intelligence.
Image
High extensibility, more choices for consumers
With the characteristics of high extensibility, the platform can carry a variety of power modes and various matching forms of engine and transmission, giving consumers more choices.
Global quality of super high mileage, multi-environment and high standard validation
More than 6 million kilometers road test, gathering 18 kinds of global typical environmental application analysis, to ensure the global recognized product quality with global high validation standards.
Lighter and more fuel-efficient
With the application of light weighting technology, the vehicle weight is reduced and the fuel economy is improved by 14.5%.
Image
Oriental Futurism
The 3rd Gen HAVAL H6 adopts Oriental Futurism design concept, which is not about overtly aggressiveness but more about sophisticated elegance.

Oriental Futurism Design Concept
Rising Flame LED Headlamp
Horizon Rear LED Taillight
Fangsheng Pattern Grille (Double Auspice Pattern)
18-Inch Astrolabe Wheel Hub
Image
Future science and technology space
The minimalist interior creates a pleasant and surprising technology experience for you.
4 High Tone Speakers + 4 Low Tone Speakers +DTS
10.25-inch Virtual Instrument
Front seats heating and ventilation
12.3-inch Ultra-Smart Touch Screen
High gloss electroplating rotary shift
Electro-optic gold/silver decoration
Driver's seat with 8-direction electric adjustable + memory + welcome functions
Intelligent car all the way forward
With intelligent equipment (carplay & android auto, wireless charge, w-hud ), sensitive response and easy control, we stride all the way from "intelligence" to "wisdom".

Global intelligent protection & full dimensional security guard
Intelligent technology, active and passive safety protection, front monitor, and side caution provide safe driving, considerate service, and worry-free travel.
AVM (Around View Monitor System)
6 Omni-Directional Airbags
71.61% High-Strength Steel Body
LCA (lane change assist) + Astern Side Warning
Whole Road Section Intelligent Dodge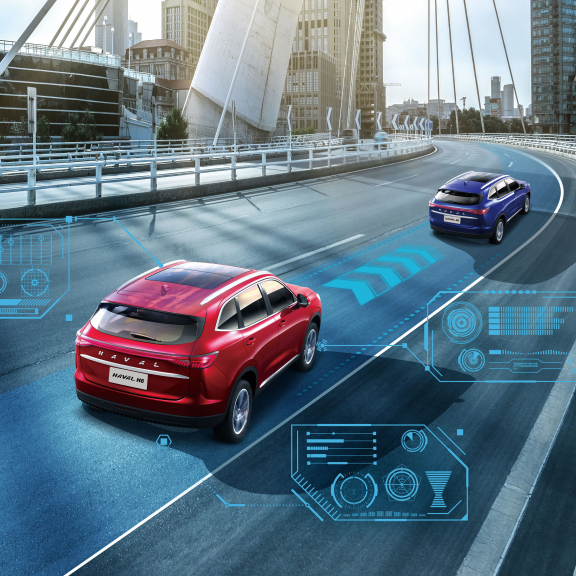 Intelligent Mobility
L2 level automatic driving with ACC at full speed, TSR (traffic sign recognition), lane-keeping and other driving assistance functions, make your driving easy and enjoyable.
Learn More
Advanced Power
Image
2.0GDIT Gasoline & 7DCT
2.0GDIT ENGINE adopts Miller cycle, electronic water pump, 12:1 high compression ratio, and other advanced technologies. The thermal efficiency is up to 38%.

The second generation 7DCT reduced the throttle response time by 200ms, and improved the shift efficiency by 100ms.
1.5T Gasoline & DHT
1.5T ENGINE, maximum power is 113kW, maximum torque is 233N•m.

4B15D HEV,The engine maximum power is 113KW, maximum torque is 233N•m and the motor maximum power is 130kW, maximum torque is 300NM.

Front Macpherson Rear Multi-link Independent Suspension + AWD
Intelligent 4WD System can realize transient response and torque distribution between systems within 110ms, realize 1200N•m load distribution and transmission capacity, and make the torque ratio of front and rear axles up to 50/50.
Image
Make It Yours
The All New H6 Hybrid is Smart From The Start. Start shopping for your 2023 HAVAL H6 Hybrid online today, or book a test drive to see it in person and start your journey.
Pre-Order It Now!
The All New H6 Hybrid is Smart From The Start. 2023 HAVAL H6 Hybrid is only available for pre-orders, contact the sale center in your region to place an order with your desired color and specifications.